10 Ideas for Virtual Nonprofit Events
With so much uncertainty many organizations are pivoting to virtual events. Now more than ever we are being challenged to come up with new and improved virtual event ideas, leaving boring webinars and video conferences to a thing of the past. Thanks to fabulous technology and ample creativity, the show can go on! In this blog post, we will explore 10 great virtual event ideas to help you plan your next nonprofit event. Of course, if you need help implementing we're only a call or email away
1. VIRTUAL GALA
New York in the springtime is synonymous with the benefit gala season… and it can stay that way! Where there's a will, there's a way! Decide on a platform, set a date, send an invitation, encourage your attendees to dress the part, promote a signature cocktail, book entertainment, and get to gala-ing! Stay tuned for our next blog post for an in-depth checklist on planning your virtual gala event!
This year hasn't turned out how anyone expected or hoped, but there's still time to make the most of it and capitalize on virtual events. Use some of these ideas as guidance to continue delivering event experiences to attendees from the comfort of home. These virtual fundraising events will help mitigate the loss of fundraising dollars, as well as keep your donors and participants engaged (and not bored at home).
PS: Here are 9 steps to follow when planning any virtual event!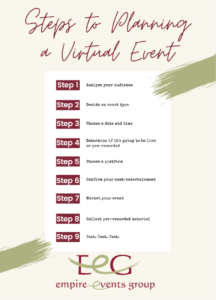 2. VIRTUAL CONCERT
While sites like Stageit have been offering livestream shows for years, virtual concerts have been  increasingly embraced since the emergence of COVID 19. Since the lockdown began, top artists have been a part of both intimate and major virtual performances showcased on social media. Most recently, the Robin Hood Foundation held a  telethon, raising over $115 million, with performances by Sting, Bon Jovi and Billy Joel. Yo Yo Ma performed a "private" concert with a moderated Q&A for the medical staff at Columbia Presbyterian Hospital. Bruce Springsteen and other NJ artists, comedians and talk show hosts were part of an hour long effort to raise money for the NJ Pandemic Relief Fund.  Not everyone can call upon big names in music and show business, but there are opportunities to showcase talent that can resonate with your audience and beyond. There are several platforms handy for a virtual event like this, such as
Facebook Live
You Tube
Streamyard
Vimeo
Stageit
Instagram Live
Decide a platform, set a date, gather artists/hosts to create virtual content, compose a run-of-show, plan the publicity, and either  sell tickets or set up the page with a donation link.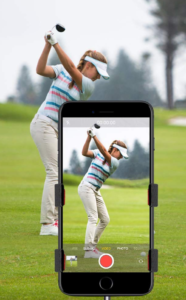 3. VIRTUAL GOLF TOURNAMENT
With the reopening of most golf courses you now have an opportunity to hold a virtual golf tournament. This scenario calls for your attendees to visit their own (private or public) golf course and golf individually (or in pairs, if allowed). Each golfer records their own scores – HONOR SYSTEM PEOPLE – and convene throughout the event via their mobile devices. This option is distinct from some other virtual options because it allows your attendees to actually get out of their house and actively participate… while still adhering to social distancing guidelines. You may even consider sending your golfers a packed lunch and cocktail to enjoy on the course!
Set a date, sell tickets, and collect your attendees mobile phone numbers to connect/update throughout the event! FORE!
4. VIRTUAL RACE 
Unfortunately, any 5k's that were planned this spring won't be happening, but that doesn't mean that you can't have a race! A virtual race can be run (or walked) from any location the attendees choose (even in the comfort of your own home gym), allowing for social distancing. Set a date where everyone runs at the same time on their own. Runners can document their race mobily (using apps like Map My Run), at their own pace and time themselves. Once all the results are in, it;'s time to celebrate through a live-stream on Facebook or other social platforms. Be sure to have participants posting their fun run and tagging you!  Similar to a virtual golf tournament, this is a great option because it gets your attendees up, active, and out of the house. This is best done as a peer to peer fundraiser, with participants seeking donations for the number of miles they run or steps they take… a typical 5k might be around 7500 steps. Either way, you can have a lot of fun with this option.
5. VIRTUAL BIKEATHON
Similar to a virtual race, you can hold a virtual bikeathon. Bikers can document their ride mobily, at their own pace and time themselves. Whether bikers are riding on a pelothon or through the neighborhood, the goal is to ride as many miles as possible, while abiding by social distancing measures. Afterward, results can be submitted and then have a live-stream to celebrate your participants and give them the ability to connect with each other and hear from someone at your organization. This is best run as a peer to peer fundraiser, with participants seeking donations for the number of miles or hours they cycle. This can also be done in (virtual) teams, so groups can fundraise together to increase the sense of community.
Fun fact: May is National Bike Month
Fun fact #2: Peloton has a fundraising page to assist in hosting a 'Pelotonathon'
6. VIRTUAL HIKE 
Continuing with the health and wellness theme, another great virtual event option is a virtual hike (and fortunately, NY & NJ parks are now open!  With so many people having been holed up inside for a while now… this option gives your attendees the opportunity to get off the couch, out of the house, end cabin fever and be one with nature! Set a date where everyone hikes at the same time individually. Most people have a trail somewhere near where they live, so encourage your participants to do their hike locally and share lots of amazing pictures on your social media. Be sure to create a cool hashtag for the event. This is a great opportunity for peer-to-peer fundraising and for the participants to share their personal fundraising page with their friends and family, and keep people connected.  #HappyHiking #HappyTrails #Trails4aCure
7. AT-HOME COOKING PARTY 
An at-home cooking party with a 'famous' chef host could be an extremely memorable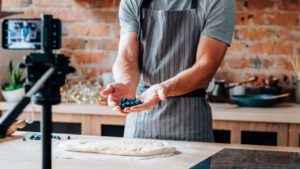 virtual experience.  Attendees would receive the ingredients via overnight delivery or messenger service (if in a local area) prior to the event and tune in to watch and follow along as the host chef demonstrates preparing the dish. Attendees get a unique opportunity of a 'personal' live cooking class and then get to enjoy a delicious meal at the end of the session with some great conversation. The Food Network adopted a concept similar to this a few months back.
Set a date, confirm a chef/host, select an appropriate streaming platform, decide on a dish (or selection of dishes), source the ingredients, ship the ingredients to your attendees and BON APPETIT!
Added value: Send along a wine pairing selection!
8. ONLINE AUCTION 
An online auction is your best alternative to the silent and live auction. There are several intuitive and user-friendly auction portals that offer state-of-the-art, cutting edge platforms, specifically for charity auctions, such as CharityBuzz, Handbid, GiveSmart, Bidding For Good, and even E-bay. Each offers different features, with many overlapping, and have various price points for any budget. 
Top of your to-do list is to solicit items. However, in these crazy times you must remember to be considerate that many businesses are currently struggling, especially restaurants, hotels and everyone involved in the travel industry.  In addition to autographed memorabilia, artwork, and electronics, you should concentrate on virtual/no contact service items, such as: virtual meet-and-greets with celebrity friends, delivered meal plans, digital workout memberships, entertainment subscriptions, etc.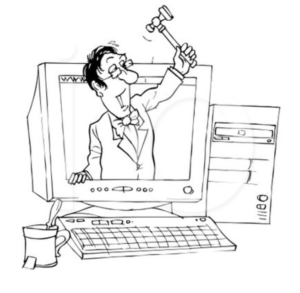 Once you have a list of items, you'll need to set up the landing page on your chosen auction portal and begin uploading. Make sure you leave plenty of time to write descriptions, choose images, decide on bid amounts and increment increases… don't forget to add in fine print details, such as expirations and blackout dates.
9. Virtual Games/Competitions 
Don't let COVID-19 ruin your game night. Here's what you'll need to conduct a virtual game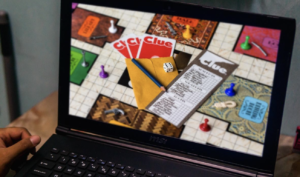 night using video chat services and top mobile games. What's the best platform to choose? It partly depends on how many guests will be participating. Zoom can host up to 100 (free tier is only 40 minutes), Skype will host 50 people, but Google hangout only allows for 25 friends.  There are several others, so be sure to do your research. There are many kinds of board games, card games and multiplayer video games to choose from and which can be downloaded through gaming sites like Steam. Another fun outlet would be to host a trivia night on FaceBook or Instagram Live.  A side benefit of which would be increasing your social media exposure 🙂
10. VIRTUAL HAPPY HOUR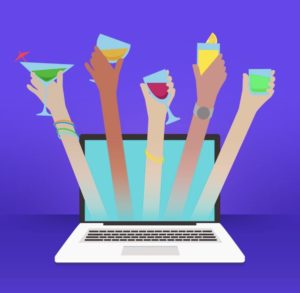 With everything going on, it's safe to say that things have been stressful, and it's more important than ever to retain relationships with donors. Luckily, most liquor or wine stores remain open as essential businesses… so ask your supporters to grab a glass of wine and join you virtually at a virtual happy hour. You can check on how your donors are doing, give them updates on your organization, and create a great space to unwind. 
This may be a good time to do a soft ask to donate, but it's probably a better time to just check in, say hi and at the end of the session, let them know the date of your next happy hour.
Contact us for more help!