Creating a Successful WFH Environment
Today's work from home policies are a "luxury" that a large swath of our workforce is enjoying. Gone is the early morning rise to catch a 6am commuter train and the long trek home that gets you in after 8pm. But, just because you get to "sleep-in" doesn't mean you should hit the snooze button until noon or sit at your desk in PJ's. You need to set specific office hours and boundaries, eliminate chaos and distractions, create a comfortable environment, and much more.  Here are a few tips to get you started.
Get your day started early
Waking up early gives you a kick start for the day ahead and promotes greater productivity and lower stress levels.

Get to bed early to give yourself a quality sleep cycle

Sleeping in can make you feel sluggish.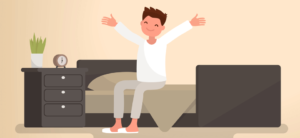 Establish your specific work hours:  
It can be difficult to flip the 'work mindset' and hit the on/off switch when working from home.  You can manage this by defining a timeline for your day and sticking to it as best you can. 

Establishing a routine will give you a sense of normalcy.

Designated work hours will reduce levels of distraction.

Work smarter not harder, so that you can avoid working even more hours than usual.
Create a comfortable work environment, but not TOO comfortable:
A comfortable workspace will lead to a more organized environment.

An organized work environment will promote motivation and inspiration. 

Be sure not to make your workspace TOO comfortable… you do not want to feel so relaxed that it hinders your productivity.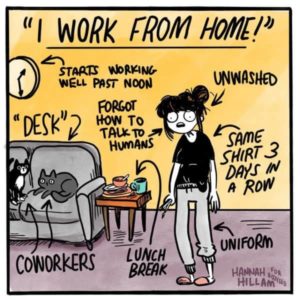 Utilize available technology:

Embrace the webcam to stay connected with coworkers.

Technology will make effective communication possible.

Schedule regular zoom meetings to keep you connected with your team and clients.
Give yourself a break:
Caring for your mental health is especially important during times like this. 

A refreshing break leads to lower stress levels.

Take a lunch break and enjoy your food away from your desk

Get outside! Take a stroll around your block for some fresh air and Vitamin D.
Creating a structured work environment and routine will boost your productivity and mindset. Stay focused, stay connected, & stay positive! 
Need more help?